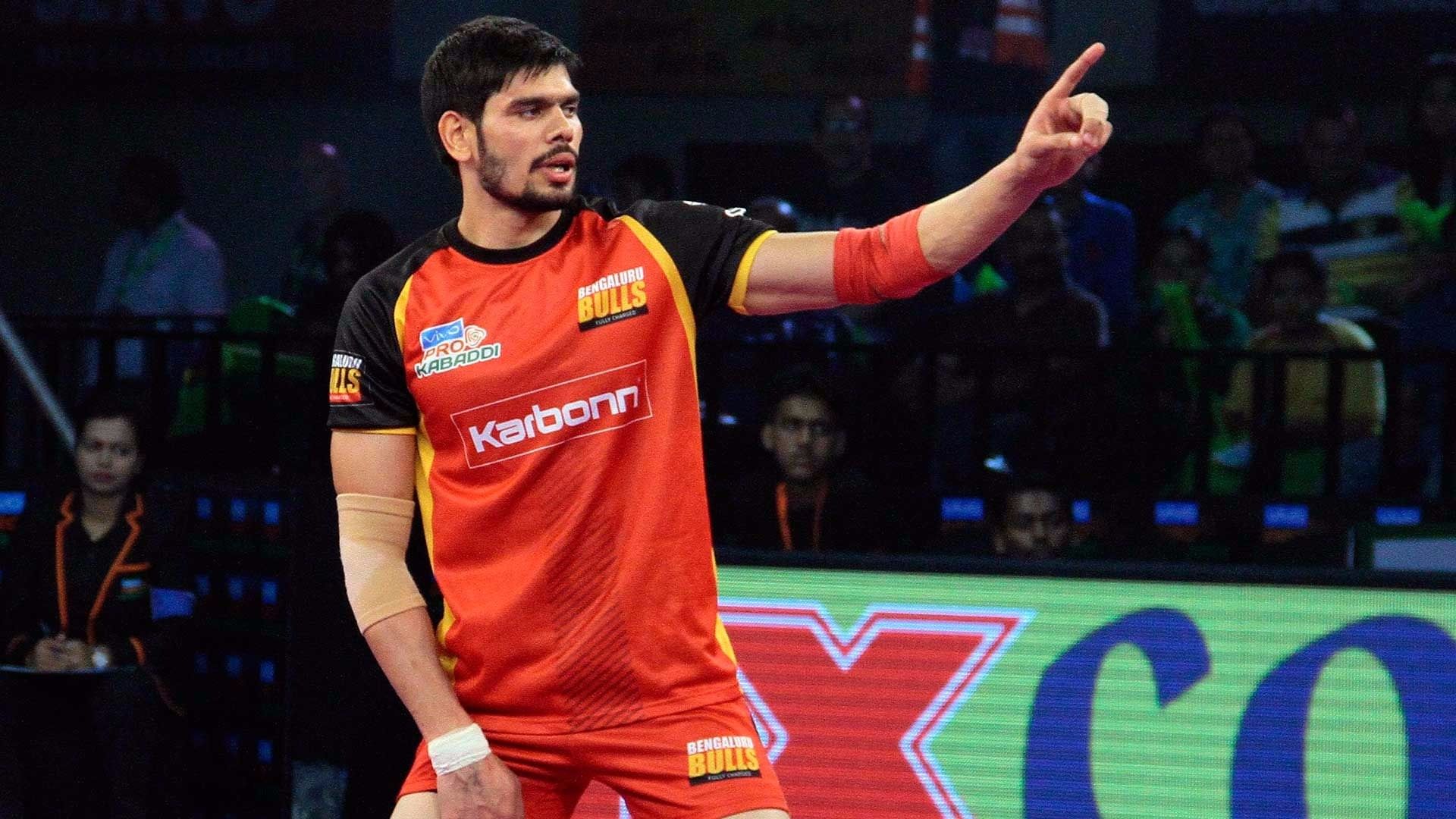 Rohit Kumar is a well-known professional kabaddi player who plays in the Pro Kabaddi League.
He is currently playing for the Bengaluru Bulls in season 6 of PKL and is also the captain of the team.
In 2016 he was part of the Indian contingent in the Asian Kabaddi Championship and in 2018 he was part of the squad for Kabaddi Masters Dubai. 
Rohit Kumar | Background
Rohit was born on 19 January 1990 in Nizampur, Haryana. He was interested in kabaddi since his childhood.
From the beginning, he saw players like Manjeet Chhillar, Mohit Chhillar, Rakesh Kumar making it big in Kabaddi and these were from the same place.
Seeing them do so well gave him motivation and confidence to achieve something in the world of kabaddi.
Rohit got admitted to the Navy through sports quota as he is highly dedicated to the sport.
He had to wait till the third season to make his grand debut in the extravagant pan-Indian league as he was not released by the services sports controlled board (sscb).
Rohit Kumar| Career
Rohit made his debut in the season 3 for Patna Pirates.
He was titled as the Most Valuable Player of the season because of his amazing attacking and flexibility he basically made Patna Pirates won their first title.
Later he was picked by Bengaluru Bulls in the fourth season to make their attacking stronger and then again in the fifth season he was in the same team.
He was picked in the fifth season for a total of 81 lakh rupees.
In 2016 Rohit fulfilled his father's dream of him playing for India when he was selected in the national squad for the South Asian Game which was held in Guwahati and Shillong.
He earned a gold medal for India in that tournament.
Achievements
Rohit has played a total of 12 matches for the Pirates and has made 102 raids points and scored 10 or more than five times.
In season three of PKL, he was already number four on the list of players with the most super tens in the league.
In the fourth season of PKL he made 93 raids points in the 14 games he played for the Bengaluru Bulls.
He was one of the first players to score 30 points in the VIVO Pro Kabbadi match he made 32 points against U.P. Yoddha in the fifth season.
The fifth season was his most successful season as he made 231 points in 22 appearances. It was second highest in that season. 
Watch your Favorite Sports person Journey Stay tuned, To play Fantasy Sports Download our Mobile app.