INDIA vs BELGIUM | India Out Of The Gold Medal Race After Losing The Semi-Finals At The Men's Hockey Competition | Tokyo Olympics 2020
INDIA vs BELGIUM | The Indian Men's Hockey Team crashed out of the gold medal race at the Tokyo Olympics 2020 on Tuesday. Belgium defeated India with the final scoreline of 5-2 in their favor.
India had a great run after their humiliating 7-1 defeat against Australia. After that India was undefeated until the semifinals. In the end, Belgium broke the unbeatable streak for India with a dominating game of 5-2.
On the other hand, the Indian Women's Hockey Team will face Argentina on Wednesday at 3:30 P.M. IST. It was really unlikely, but the women's team made it to the semi-finals after defeating the Australian Team by 1-0 in the Quarter-Finals.
Match Highlights: INDIA vs BELGIUM
After falling behind early against Belgium, the Indian men's hockey team took the lead.
In the first quarter, however, Harmanpreet converted a penalty corner and Mandeep scored from open play.
Alexander Hendrickx scored from the penalty corner in the second quarter to tie the game at 2-2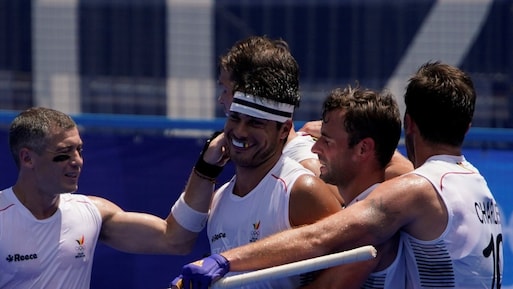 He did it again in the fourth quarter to give them the lead.
Hendrickx completed his hat-trick by converting a penalty stroke to make the score 4-2 in favour of Belgium.
 John-John Domen scored another goal with Sreejesh off to make the final score 5-2.
Much To Look Forward To…
India is out of the gold medal race. However, it is not over yet. There is one last battle for the bronze medal at the Olympics 2020. India will face either Australia or Germany in the bronze medal game on Thursday, 5 August at 7:00 A.M. IST. If India wins the match they will create history. It has already been a great achievement for the team that made it to the semi-finals after 42 years of wait. The whole nation has its eyes set on the team that will play for the bronze medal in a couple of days.
Also Read, Kamalpreet Kaur Finishes Sixth In The Women's Discus Throw Finals | Tokyo Olympics 2020
---
Watch Your Favorite Sports person Journey Stay tuned, To play Fantasy Sports Download our Mobile app