After praising "beyond perfect" Kevin De Bruyne following his four-goal haul vs Wolves, Pep Guardiola said on Erling Haaland's impending arrival: "Definitely, he can help us score more."
Pep Guardiola sent out a frightening message to the Premier League that he thinks Erling Haaland will help already free-scoring Man City score even more next season.
Kevin De Bruyne scored four goals as City overwhelmed Wolves 5-1 at Molineux to go three points clear at the top of the Premier League table and move within four points of the title.
The brilliant Belgian has now scored eight goals in his last eight Premier League games as his influence in the final third is proving to be one of the main reasons behind City's relentless title push.
What Guardiola has said:
Guardiola said: "What can I say? The second part of the league he has been beyond perfect.
"He is a guy who is always so generous, always has the sense to make the assist. But I think this season he has also had the sense to be prolific to score goals. He scored against Chelsea, he scored against Madrid, and he has been decisive scoring goals. In the end this is what makes the greatest.
"I am very pleased for him because, of course, scoring four goals in the decisive part of the league it is so important."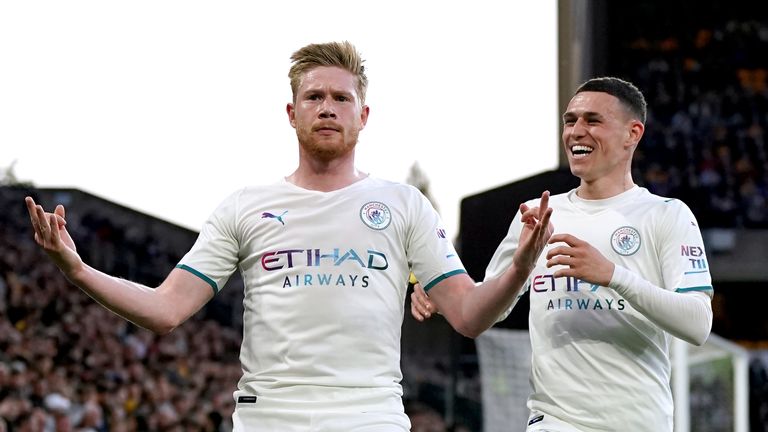 De Bruyne is now City's top goalscorer in the Premier League with 15 goals to his name, taking him to a personal record goal-haul in a single season. Goals in big games have been scored too with De Bruyne on target in both fixtures with Liverpool and in the 1-0 win over Chelsea in January.
Guardiola is delighted to see the Belgian enjoying the feeling of scoring more goals, saying: "We have spoken. Not now, but during the years. You have to arrive in the box, you have to be close to the box, you have to score. This season was the year that he has done better and better. Hopefully he can continue not just this year but the rest of his career.
"I have the feeling that now he has started to enjoy scoring goals. Before it was just assists. Now I think he has the feeling that he likes it when his team-mates come and hug him after he has scored a goal."
"Definitely, he can help us score more. It is not about that. In the end it is about winning games.
He added: "I never thought that our defensive situation depends on the central defender and I never thought that the goals we score depend on the striker. He has scored a lot of goals in his career and we are going to try to help him through the game, having more chances to score goals.
"We are never going to give him the responsibility to score goals. We have to win games and if we are going to win games we need everyone doing it the best way, arriving as much as possible. After, of course, if we arrive there, with the quality that we believe he has, we can do it.
"I respond because I have to do it and I am a polite man but this is next season. Now we have to work a lot this season. It is not done. We still have a job to do. We saw yesterday how tough Aston Villa will be and, of course, West Ham. So, I still have a job to do."
Stay tuned for more Sports Updates. And if you are a fantasy sports fan, download our Mobile App.