UEFA Euro 2020 France vs. Germany score: Mats Hummels own goal swings opener to world champions
France beat Germany 1-0 in Munich. It was a game where their two goals were disallowed.
An unfortunate Mats Hummels own goal proved to be enough for France to start Euro 2020 with three points. They got a 1-0 win over Germany in Munich. In the rest of the match Mats Hummels was quite brilliant.

Also, Didier Deschamps's side had two goals disallowed in this game. In this match, neither side showed quite the cutting edge. Also, this had been expected from them in the biggest game so far of Euro 2020.
About the Match:

In the first half, Paul Pogba provided the game's best telling moment. He crossed a brilliant cross-field pass. He gave it with the outside of his boot. This found Lucas Hernandez and his volley went to the goal. Hummels tried to clear the ball but it turns into his net. It was the only real chance that France created in the first half.

Also, Germany was not created huge chances throughout the match but which they created was wasted by Serge Gnabry.
Adrien Rabiot hit the post early in the second half. But Germany dominated the match as they have better ball possession. Also, Germany got the home supporters so they had confidence in the second half more.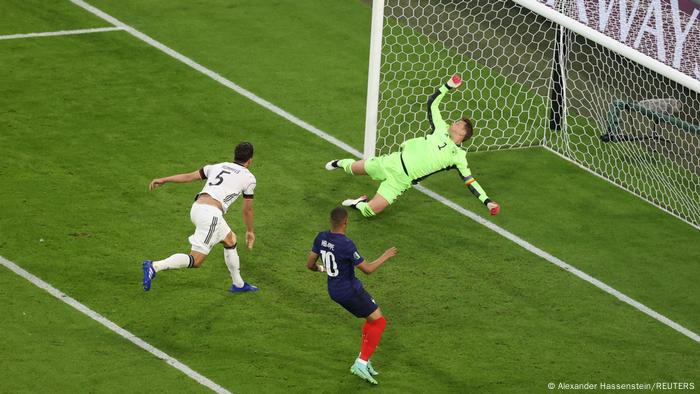 Also, in second half France had scored twice but both the goals are disallowed after taking VAR. One of them was scored by Mbappe. If that goal was not disallowed then it could be the goal of the Tournament.

The Paris Saint-Germain striker had the ball in the net in the 66th minute. He took a brilliant curling effort with his right foot to be ruled out for an offside.

Also, Karim Benzema, who recently recalled for national team squad again, had scored a goal. But that goal also ruled out by an offside decision.

Mbappe also convinced that he had won a penalty. Mbappe made a speed burst and initially beat Hummels. But, after checking VAR Referee confirmed that Hummels did a clear tackle on him.
---
Also read, France will play against Germany in their opening fixture of Euro 2020 tonight.
---

The bondings between Griezman, Mbappe, and Benzema were so beautiful to watch. Still, Germany could not make the most of those lifelines. Leroy Sane took a late free-kick high and wide. Also, Toni Kroos's miscuing a corner is a frustrating end for the hosts. Germany will face a challenging clash with Portugal on Saturday.

France midfield looks unbeatable:

Didier Deschamps's side was not all that remarkable in the first half. At least they are not up to the mark concerning which starting 11 they have. France has some serious talent in every department of football.

Also, for France, their mid-field trio played the best. Pogba was the man of the match. This midfield looked unbreakable. Kante, Pogba, and Rabiot played beautiful football. They did attack as well as defending at their best.
In this somewhat underwhelming start to the game of the tournament so far, it was Pogba who lit the stage up. With Rabiot on hand to do some of the shuttling and the world's best midfielder alongside him, Pogba was the man to add sparkle to the contest. He glittered.

Perhaps the only player to outshine Pogba in the first half was N'Golo Kante. He started upright just where he left off in the Champions League final. He covered every blade of grass in that game. Kane covered a total distance of 5.6 kilometers only in the first half.

Another player did the same and it was his Chelsea teammate Kai Havertz.
Watch your Favorite Sports person Journey Stay tuned, To play Fantasy Sports Download our Mobile app.