As far as India's limited over captaincy is concerned, the leadership may change, and Captain Virat Kohli may step down and transfer responsibilities to his deputy Rohit Sharma. Kohli is currently a patron of various forms of India and has become one of the greatest figures of all time.
There are rumors that Rohit will take over, at least in T20I, considering his record as a successful substitute captain of the IPL, he won five championships with the Mumbai Indians, further enhancing his proposition. However, once the 2021 ICC Men's T20 World Cup ends in the UAE, Kohli is now more willing to focus on batting.
"Virat himself will make the announcement. He is of the view that he needs to concentrate on his batting and go back to becoming what he's always been — the best batsman in the world," The Times of India quoted sources as saying.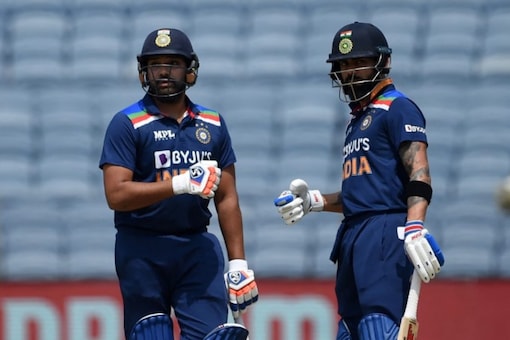 Time for Rohit Sharma to take over.
Stat Watch For Virat Kohli:
Kohli, 32, has so far led India in 95 ODIs, and with 65 wins along with 27 defeats. He has a winning percentage of 70.43. In 45 T20Is so far where he has been the captain, India have won 27 times while losing 14 times.
On the other hand, Rohit, 34, has led India 10 times in ODI. Leading them to victories on eight occasions. While losing twice. In T20Is, he has captained them 19 times of which they have won 15 and lost four.
"It will wrap up a historic Test cycle from an India perspective. Virat is also the first to realise that his overall responsibilities as captain are taking a toll on his batting.

He needs that space and freshness because he has a lot more to offer. If Rohit takes over as whiteball captain, Virat can continue leading India's red-ball team. He will work on his T20 and One-day batting. He's just 32. Given his fitness, he will easily play top cricket for another five to six years at least. The report stated.
No Trophies
One of the most important view about the captaincy of Kohli is that he has failed to win a major ICC tournament. Recently, in June, India lost at the final of the World Test World Championship, It boosted the talks. However, according to the TOI report, Kohli, Rohit and India, team management has had meetings in recent months on the change of roles in white ball cricket.
Also Read: BANGLADESH CAGED THE KIWIS AT HOME.
Stay tuned for more Sports Updates. And if you are a fantasy sports fan, download our Mobile App.