India's catching and fielding attempts on the field in Mohali were really below-par and really unacceptable from a side like India. It has picked up heavy criticism over that fact after India lost the match by 4 overs in the final over of the match.
Ravi Shastri was one among many who were disappointed to see this level of fielding effort from India. Despite Kohli and Rohit leading from the front, their players were dropping catches like it was for nothing.
Cameron Green was dropped early on in his inning which later proved to be disastrous as he ended up scoring 61 runs during his stand.
Bhuvneshwar Kumar yet again was bowling far from ideal as he along with returning Harshal Patel gave 101 runs in the last eight overs. Ravi Shastri coached many players in the current setup in the from row to witness the fuss and then comment and condemn it.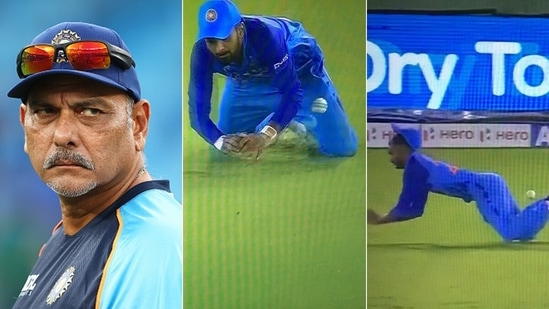 Shastri said, "If you look at all the top Indian teams over the years, there is youth and experience. I find the youth missing here and hence the fielding. If you look at the last five-six years, fielding-wise, I think this side is no match to any of the top sides when it comes to fielding. And that can hit badly in big tournaments. It means that as a batting side you have to get that 15-20 runs game after game, because if you look around the field, where is brilliance? There is no Jadeja. Where is that X-factor?"
Chasing 209 would have never been easy but India made it happen with their supportive bowling and assisting fielding assist dropping Cameron Green and then leaking a lot of runs in the death to capitalize as did Matthew Wade.
Matthew Wade, the man who made possible the run chase by Australia was also dropped by the Indian fielders on just 1 in form caught and bowled by Harshal Patel.
Shastri commented, "What I was disappointed today with was the standard of fielding. I mean, it looks sloppy and I think you need a big upping of the ante when it comes to the fielding if you have to beat big sides in big competitions."