RCB vs DC Post Match Summary
Hetmyer's on his knees, Pant is distraught. Kohli celebrates the victory with a scream then puts his arm around Pant's shoulder. The Capitals dugout is morose as well. They've lost by a run. A proper struggle for Pant at the end. A contrasting innings from Hetmyer at the other end, who only got to face one ball in the last over. Will he be thinking what if? He's collapse to the floor outside the dugout. It wasn't an airtight over from Siraj for sure. There were opportunities. But it hasn't been Pant's night. For RCB, proof once again that early wickets still mean a big deal in this format. They've held on, after taking full advantage of that last over in their batting innings. Remember, they wobbled too before AB de Villiers intervened. But they are back at the top of the table.
Rishabh Pant on Delhi Capitals Team Efforts in post match Presentation:
Feeling disappointed. I think they were 10-15 runs extra on this wicket but Hetty played a brilliant innings, because of him we got close. When we had 14 or 16 to go, we were planning that whoever has strike has to go for it. We counted the overs really well but in the end the spinners didn't get the help we thought they would, that's why I went with Stoinis for the last over. It's good to take positives from all matches, as a young team we want to improve each and every day.

Rishabh Pant
Mohammed Siraj on his Bowling Performance in RCB vs DC Match:
I was only thinking that my yorker's coming out well. It's what I execute in tough situations, so I was confident in my yorker. That's all I was thinking about. If you aren't clear you'll miss your execution, and so I went in with clarity. If they hit you, you can't help that, you just execute. Confidence has played a big part in my game. Playing Test cricket has improved my line and length and I've just been bowling that. It also helped to learn from players like Ishant and Bumrah.

Mohammed Siraj
Virat Kohli on RCB vs DC Post Match Summary:
At one stage I did [feel it was getting away]. But the way Siraj started the last over gave us confidence. He finished clinically in the end. I still feel we could have done things differently. In the field a couple of lapses.. Maxi, AB, Rajat had some nice innings. For the most part I think we were top in this game with our bowlers. We felt 160-165 was par. It was a bit two-paced. There wasn't any dew tonight thanks to that little sandstorm in the middle and we ended up bowling with a dry ball. If you look at our bowling line-up, Maxi's still not bowling, he's the 7th option. As a captain I can bowl guys at different stages, take the load off one another. And Maxi is yet to bowl. We've always had batting but now bowling as well. I choose to be optimistic. You do well pressure as captain, when you do this a long time you need to manage that. I generally go with the gut feeling of the bowler. A lot of credit goes to this guy behind me [AB], he hasn't played competitive cricket in five months but he keeps doing this.

Virat Kohli
AB de Villiers is the Player of the Match (RCB vs DC):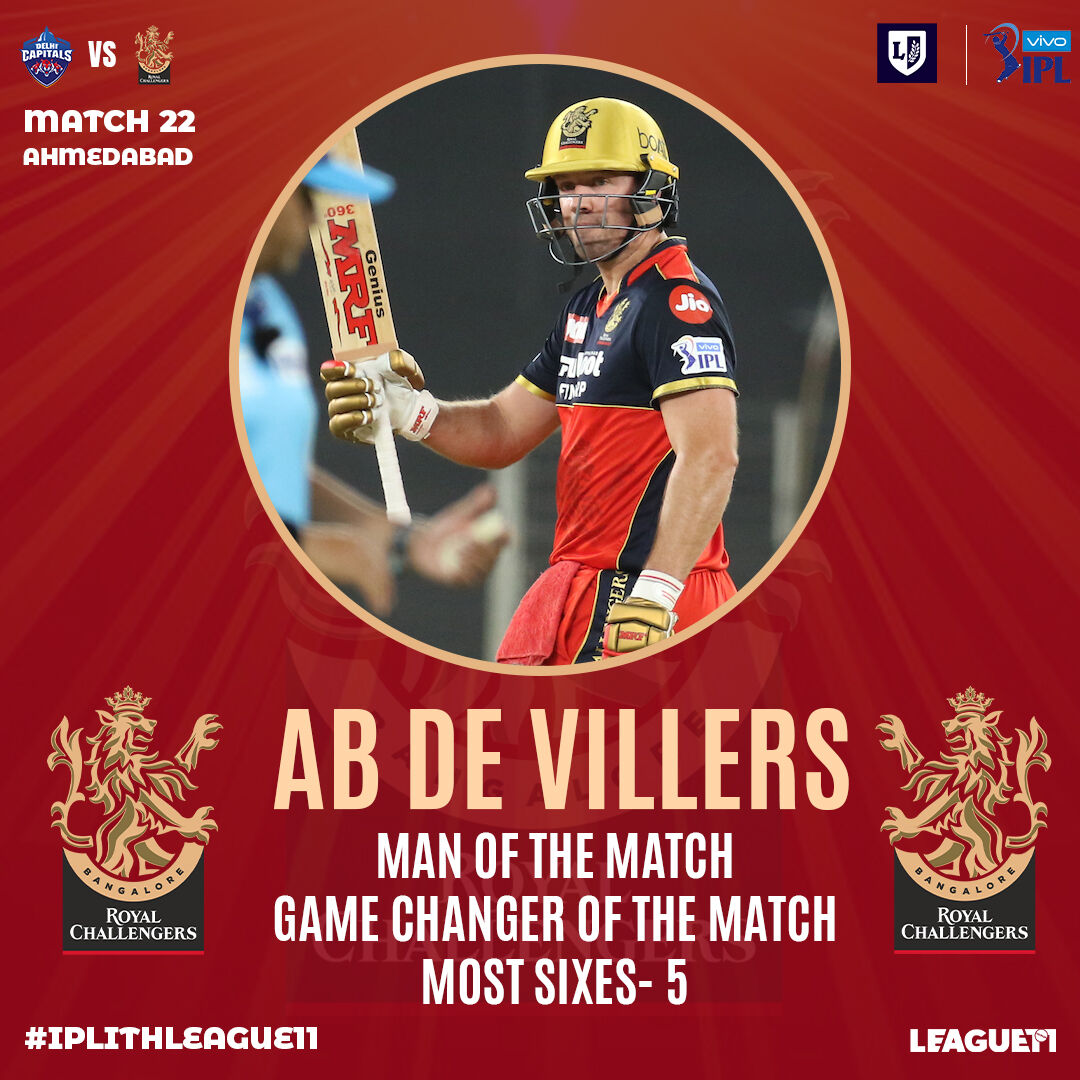 I was asked this question after I batted – no offence to KG but the one over midwicket was my best one. Once you're into the tournament, it's more about managing yourself, make sure you're fresh every game. You can't go into the game feeling fatigued. I've really done some work at home and we have treadmills in the room. I've done all the work and now it's all about being as fresh as I can when I go out to bat. We've got a couple of experienced heads and a couple of young Indian bowlers who have done well in international cricket recently. Myself, Maxi and Virat have played a lot. We just try to have fun out there. I've forced myself to savour it.

AB de Villiers
Stay tuned for more Sports Updates. And if you are a fantasy sports fan, download our Mobile App.