PBKS vs RCB Post Match Presentation.
Comprehensive win for Punjab Kings. They seemed to give it away when that collapse happened, but they took control after that and never gave it away. Some supremely tight bowling in the powerplay to tie dismiss Padikkal and then tie up Kohli and Patidar. Then, the spinners. Bishnoi started off conceding only 6 off his first two overs. After him, was Harpreet Brar, who seized the game with seven top quality deliveries off which RCB got no runs and lose their big three – Kohli, Maxwell, AB. They stood no chance after that. They slide to third and only Mumbai Indians separate them and Punjab Kings right now.
Virat Kohli on RCB Team Performance during PBKS vs RCB Post Match Presentation:-
They got off to a decent start and we pulled things back decently. Probably gave away 25 too much at the end, should have been chasing 160. Had a chat around executing our plans, which we did, but at the end we strayed away. With the bat we never got the momentum, they bowled well to be honest. Just kept the pressure going. But as batsmen as well we could have tried more things at the start. It was tough to hit through the line. It was about making a partnership and making sure you're there to keep getting the boundaries, bat at a strike rate of at least 110. We didn't manage to do that. We understand the areas where we lost momentum. The composition of our team is such that someone like Rajat, if you see the last game, controlled the game for us. We give him that freedom and sometimes it doesn't work out. Maxi and AB at 4 and 5 has worked well for us, when there's a partnership early, one of them will come off. Didn't work today but Rajat's a quality player. A bit of a positive at the end, pulled things back nicely. Harshal and Jamo struck a few at the end. A loss off 60-65 would've hurt more.

Virat Kohli
Chris Jordan during the Post Match Presentation:-
I wasn't really thinking too much [about the speeds he bowled] but obviously nice to be pushing the 140s. Not touched 150 yet but I'll definitely get one soon, I'm sure. To be honest when we got to that total we we were very happy. At once stage we were saying we would be happy between 158 and 162. We were able to take wickets and stop their momentum. Probably at the end there it was a bit untidy, but we're doing well and need to build on it. We always talk about doing things as a team, even if the batters don't do well, we as bowlers try to do it right and vice versa. That's how teams build and you can hopefully see more of that from us in the tournament.

Jordan on PBKS Bowling Perfromance
Harpreet Brar is the Player of the Match in PBKS vs RCB: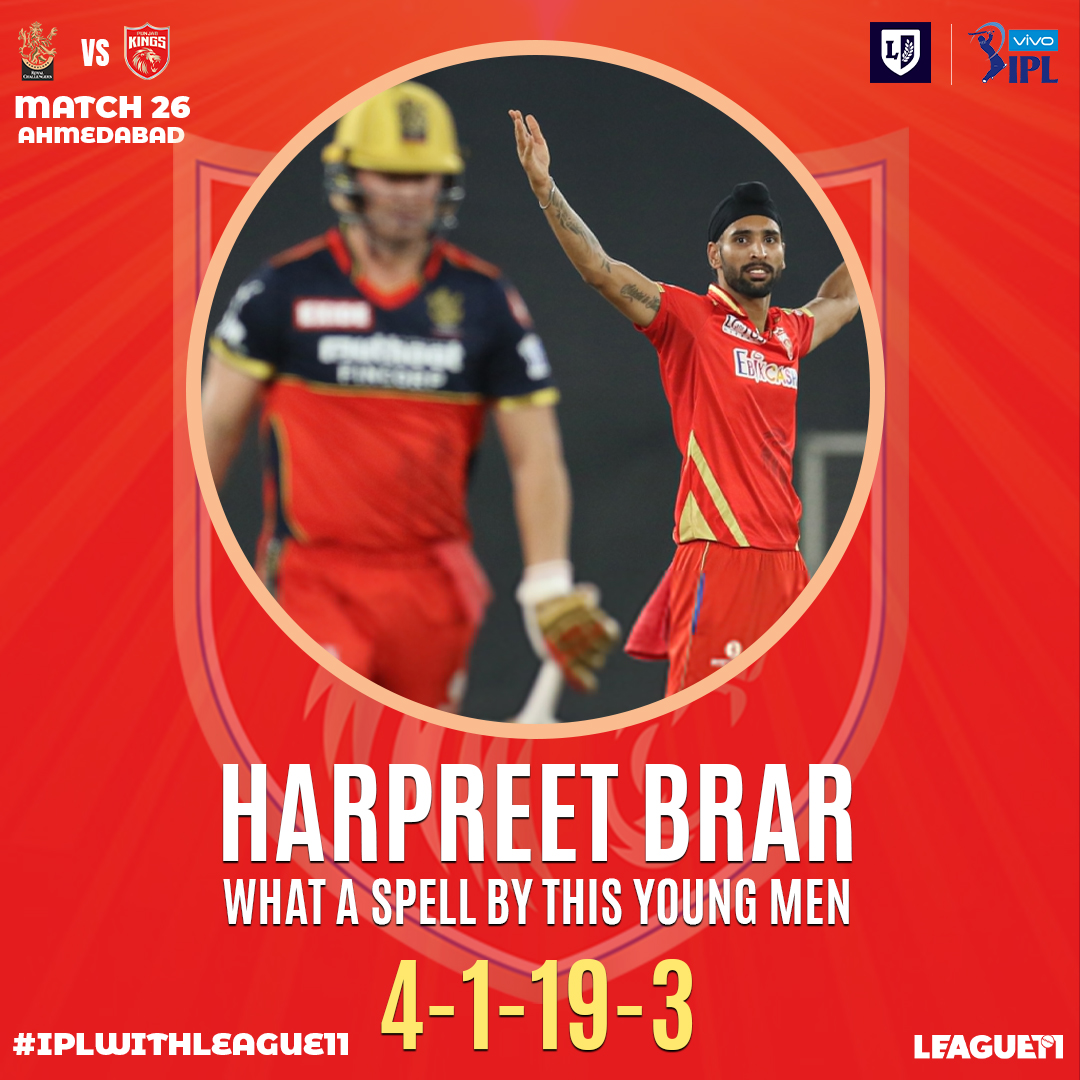 They'll be happy at home I'm sure, it's their best wishes that have got me here. I didn't feel anything about being hit for six because a bowler always has a chance to come back. So I knew I could come back. My first IPL wicket is Virat paaji and that helps. Your body opens up, you get confident, and things fall into place. When I went into bat there was time to wait and see for an over or two. Rahul bhai was there at the other end to talk to me about the conditions and such.

Brar in His First Performance for IPL 2021
The Winning Team Captain KL Rahul during the Presentation:
We were preparing him [Harprett], I can say that now after a game like this. We needed a fingerspinner who could hit the hard lengths and get some spin. And we're happy it worked out. I've been trying to speak to the boys, whatever little experience I have of international and IPL, pass it onto them. They have enormous talent but as captains it's important we prepare them for the pressure in the situations. There's nothing in particular [about performing against RCB]. We've always played them, at least the last 4 inniings, in must-win games. So I try and do well and set up a target and it's worked out. There'll always be talks outside the team whether Gayle should be playing at this age, but I know as a captain what it feels like to have a man like him. He keeps getting more and more dominant. The last season onwards he's batted at 3 and that's the kind of man he is, does anything for the team. It's nice to have that kind of experience in the middle.

KL Rahul
Stay tuned for more Sports Updates. And if you are a fantasy sports fan, download our Mobile App.