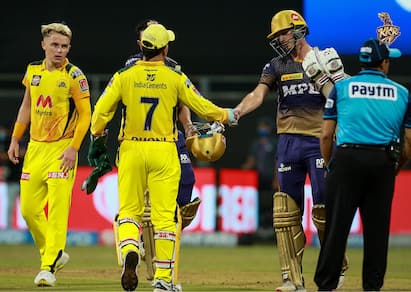 CSKvsKKR Post-match review:-
The Chennai Super Kings smashed in another game of the Indian Premier League 2021. The Chennai Super Kings stagnated a target of 221 for the Kolkata Knight Riders. Boys from Kolkata tried their level best to chase the target but eventually got an all-out by the end. The game seemed too close for anyone. CSKvsKKR Post-match review. Pat Cummins, Andre Rusell and Dinesh Karthik. But the special credit has to be given to Pat Cummins. When he came in, Kolkata was still way behind but he tonked the ball to all parts of the ground and took Kolkata close but it was not to be.
CSKvsKKR Post-match review |Kolakata Knight Riders:-
Kolkata was off to a poor start as they lost 5 wickets for 31 runs inside the powerplay. Many would have thought that Kolkata was done and dusted but not Andre Rusell, Dinesh Karthik and Pat Cummins. Andre Rusell twonked 54 in just 22 balls while Karthik played very well but something special was yet to come. Pat Cummins was superb, he hit Sam Curran for 30 runs in an over and he brought Kolkata back in the game but he also lost out of partners in the end and Kolkata fell short.
CSKvsKKR Post-match review| Chennai Super Kings:-
Chennai on the other hand, picked up 5 wickets in the powerplay and Deepak Chahar taking 4 wickets and the game should have been done and dusted but later, their bowling was hammered. Sam Curran went for 58 runs while Shardul Thakur continues to have a tough time with the ball. Curran, despite giving valuable runs, probably picked the wicket of the match as he dismissed Andre Russell.
MS Dhoni, the Chennai skipper, says that it is quite easy as the context was between the batsman and the bowlers from the 16th over and it was their execution which matters. On the other hand, Eoin Morgan, Kolkata skipper says that they made a great comeback in the game after they were 31/5 at one stage. He also mentioned that the partnership between Russell and Karthik's partnership was crucial for them. 
Post-match Presentation:-
The MAN OF THE MATCH was declared to Faf du Plessis who scored 95* in 60 deliveries. He says that he has felt the most fluent in this season so far and he is feeling more technically correct.
That ends another thriller at the Indian Premier League 2021. Chennai wins their third game in a row while Kolkata loses their third in a row but the flight they showed was pleasing to see. Chennai will be relieved that they have managed to get over the line. 
Stay tuned for more Sports Updates. To watch the videos about the top players of every match subscribe to our YouTube Channel. And if you are a fantasy sports fan, download our Mobile App.