CSK vs MI Post Match Presentation. Mumbai India Won the match by 4 wickets. Pollard finishes it off for MI in a blockbuster finish!
Kulkarni leaps for joy and roars. Pollard looks skyward – more subdued celebrations from the T20 stalwart. What a vintage finish from one of the greatest T20 players in the world. He reeled off a 17-ball half-century, dripping with power, and proceeded to an unbeaten 87 off 34 balls to help Mumbai mow down a target of 219, off the very last ball. Hardik sounds out a big warning for the other sides: "We've arrived at the right time in the tournament
MS Dhoni during CSK vs MI Post Match Presentation:
I think it was a brilliant wicket and I feel the difference between the two sides was the execution – how off we were. Without being too tough for the bowlers, catches do help. I felt we dropped catches at the crucial point. It doesn't hurt much when you're on the top of the table. If you look at how it really went, we were very off-target and against good batters who hit hard, it's important to execute the plans. Even if you don't get hit for one or two sixes, in the 20th over that can win you the game. It hurts but the spirits will be up. When you're under the pump, you learn more. Irrespective of where we are on the points table, we look at one game at a time. Ultimately, if you do that, the points table will take care of itself.

MS Dhoni
Hardik Pandya on Pollard's Inning during CSK vs MI Post Match Presentation:
After winning this kind of game, you've got to be pumped for the rest of the night. When he does something like this, you are genuinely speechless. He has done it again and again – it's inspirational to watch him do something this amazing. I'd love to finish the game, but for me, I said after 210 the game can't get better than this. You got out-swing. We've arrived at the right time of the tournament. This momentum will help us do wonders. Special mention to Polly! I'm proud of him.

Hardik Pandya
Pollard is the Player of the Match: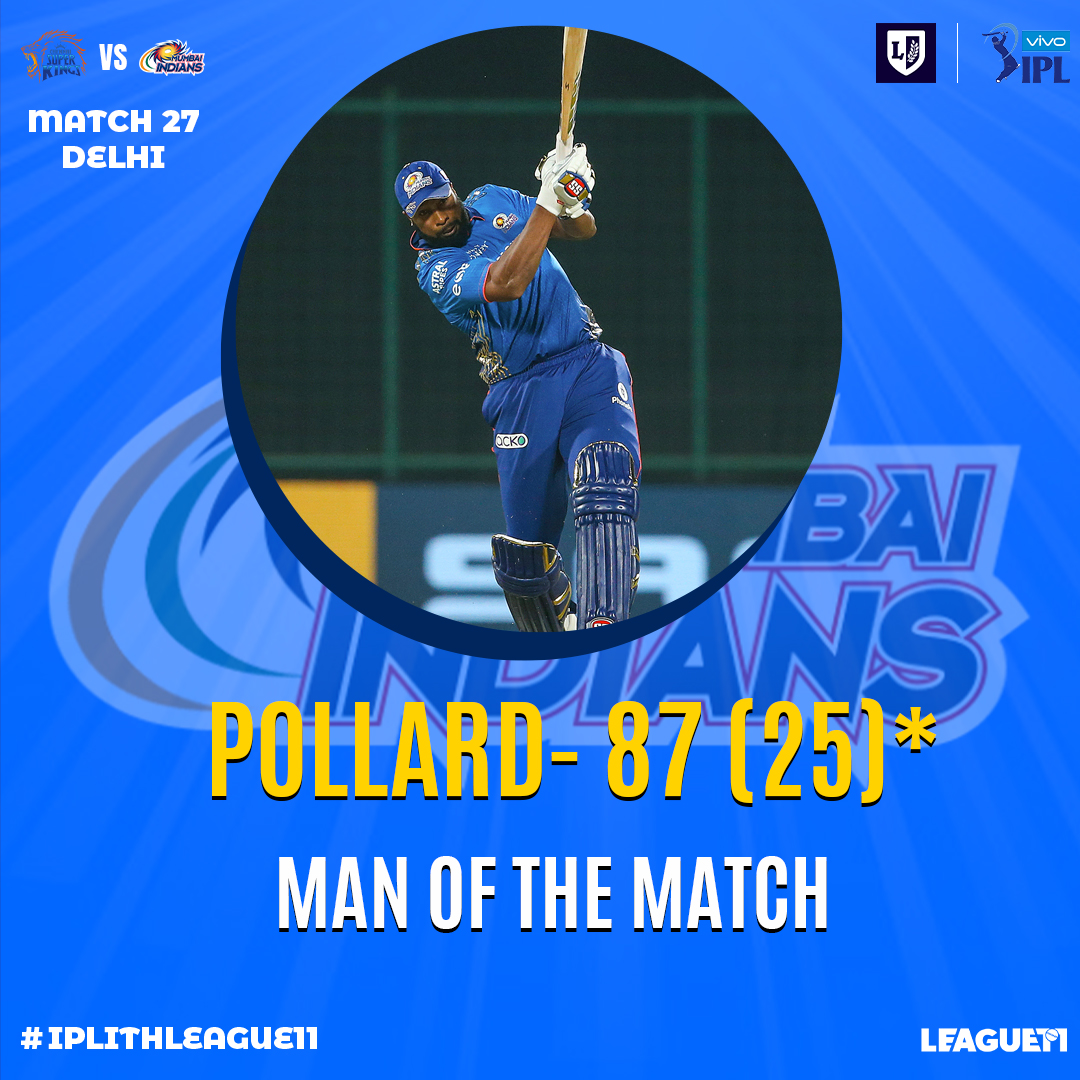 First of all, I want to thank the almighty for watching over me and giving me the strength. So, yeah, started to bowl [laughs]. Obviously being a small ground, we thought it was the best time for the seamer to bowl. They have four overs of spin on a small ground and I looked to hit some sixes against spin. I had to maximise that over from Jadeja. That would always keep us in the game. Each and every time as an individual you have to evolve. Guys bowl wide and a lot of practice goes into it. I can't say I'm 360, but I'm maximising it [hitting through the off side]. I was fortunate Faf gave me the chance. Good wicket, but the bowlers didn't do well for us. It was about time the batting stood out. Two wins in the last two games hopefully gives us the momentum into the back end of the tournament.

Pollard During the Presentation
Rohit Sharma After Winning the First IPL Chase For MI (above 200 Runs):
Probably one of the best T20 games that I've been part of. One of the best innings also you can say from Polly. I know it's always tough for the bowlers on a good pitch and smaller ground. We wanted to stay positive once we finished [bowling our] 20 overs. We got a good start and saw what happened. I mean we just had a brief chat [at the innings break] and said it was a good pitch. We had shot-makers in our batting line-up and we just wanted to take the game in the end. Brilliant partnership at the top and Krunal-Polly partnership was also there. We backed Krunal [at No.4] and he's coming off good form in domestic cricket. A left-hander always makes a difference even though they [CSK] have an offspinner. It suits our style of play and yes the bowlers will be under pressure, but that's where you back the bowlers. There will be games where the bowlers will go for runs, but it's important to back your core group of bowlers.

Rohit Sharma
Stay tuned for more Sports Updates. And if you are a fantasy sports fan, download our Mobile App.