Australia dominated the day in the very first ODI of the mega series set against India.
Last Updated: 28th Nov,2020 3:55PM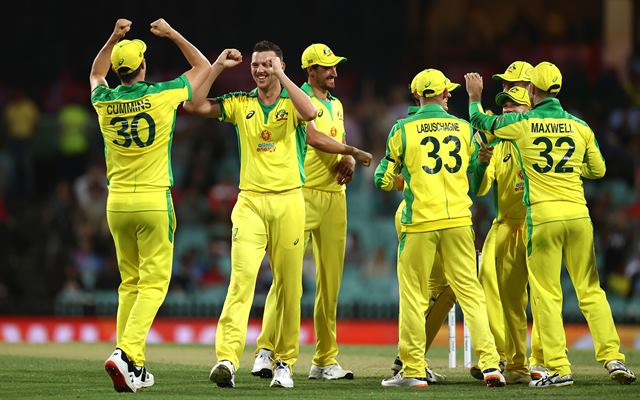 The much-awaited series between India and Australia kicked off with the first ODI in Sydney. The hosts showed some stellar form and dominated the day in all sections by winning the game by 66 runs. Batting first, Australia posted huge 374 runs on the board where centuries by two batsmen caused all the destruction. Skipper Aaron Finch (114 off 124) and Steve Smith (105 off 66) became the flag bearers of Australia's batting line up.
David Warner's 69 runs and the thunderous cameo of Glenn Maxwell (45 off 19) pushed the team to touch the impressive score. India's bowling artillery couldn't shine to their best on the occasion. Mohammed Shami bagged three wickets under his belt. Jasprit Bumrah had to adjust with only one wicket under his belt who was expected to do wonders on Australian soil.
Adam Zampa shined well for Australia
While chasing the giant score, Mayank Agarwal and Shikhar Dhawan (74 off 86) got off to a great start but couldn't hold on to it for long. Even after losing four wickets, Hardik Pandya kept the hopes much alive as he played a scintillating knock of 90 off 76. However, it was all over for the Men in Blue after he set foot for the pavilion. Adam Zampa weaved his magic with a class spin attack as he picked four wickets, and Josh Hazlewood got three on his name.
Winning skipper, Aaron Finch said
Found it reasonably hard to get my timing. Took a couple of chances, got lucky. We've barely been together as a team. Each guy has different strengths and weaknesses. You embrace that. Davey, he's moving beautifully. His rhythm looked outstanding. Smudge was different class altogether. Maxi, the rare ability he's got to just click his fingers and put pressure on the opposition.
Losing skipper, Virat Kohli said
Got enough time to prepare. Don't think there can be any excuses. Probably the first long game we've played in a while, been playing T20 cricket. Probably that's something that can have an effect. Body language wasn't great after around 25 overs. If you don't take your chances against a top-quality opposition they'll make you pay. Unfortunately Hardik is not fit enough to bowl, and we don't have other allround options to pick from either, someone like Stoinis. From the batting point of view, we had a chat briefly now. All the batsmen committed to it which is why you saw us playing with intent. I think we gave ourselves the best chance. Hardik's innings was the best example of that. As a batting unit we committed nicely to positive cricket and we are going to do that in the future as well.
Player of the match, Steve Smith said
Have been searching for something for a couple of months now. About three days ago something just clicked. My rhythm came back, everything came back. Finchy and Davey played very well early on. We could come in and be aggressive. Wasn't thinking too much out there, just seeing the ball and hitting it. Was seeing the ball well. It was a good surface. Nice to contribute to a good win. Need a bit of luck in this game sometimes, nice to ride it today (getting his LBW overturned).