Ollie Robinson to be dropped in the 2nd Test?
It's the news coming out that new England Debutant Ollie Robinson is likely to be dropped by the England Cricket team for the second Test against New Zealand after racist tweets come to light. The pacer made his test debut for England in the ongoing England versus New Zealand test match. Robinson impressed with his brilliant bowling figures 4-75 on Thursday against a tough New Zealand side. But the England and Wales Cricket Board is understood to be determined to make an example of him as it tries to root out discrimination in cricket.
The ECB launched an investigation into Robinson's conduct – centering on tweets he sent in 2012 and 2013 which included racist and sexist language – on Wednesday night and is set to drop him from the squad for the second Test, which begins at Edgbaston next Thursday. And its also understood that the investigation could yet lead to him being ruled out of some of the series against India too.
Recently Ollie Robinson has apologized to his England team-mates in the Lord's dressing room after the emergence of his racist and sexist tweets. Those tweets were posted by him in 2012 and 2013 when he was 18 and 19 years old respectively . Nobody knew about the tweets until midafternoon Wednesday when the media started asking for comment.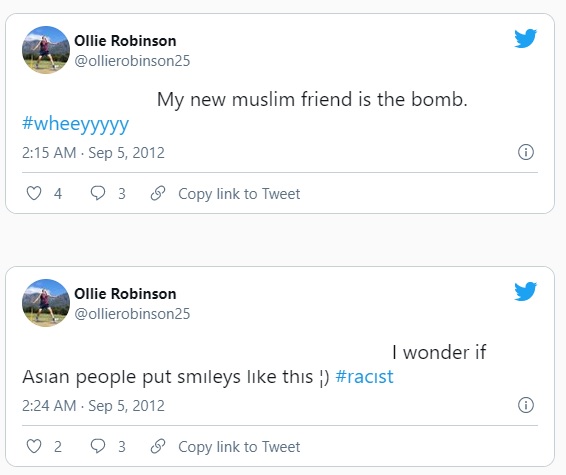 Some opinions
Perhaps it will be harsh call on him if he gets dropped . He tweeted that 8 -9 years past- which is big interval. And also he has apologized for it . The young man has just began playing for his nation. Such a things will surely demotivate him a little bit. And he has been very brilliant in 1st innings against WTC finalists . He might not call this test as his favorite as these are his tough times. But remember "Tough times never last"
Ollie Robinson :
If he gets dropped some cricket fans might think it as part of their Rotation Policy. But no country will give rest to sech a emerging player who has just played a test . So if he gets dropped it will be only because of ECB's rules. Cricket fans from all over the globe will have their eye on final decision. Till then we have to : WAIT AND WATCH !
Stay tuned for more Sports Updates. Subscribe to our YouTube channel for video content. And if you are a fantasy sports fan, download our Mobile App.
Follow the Author here :